Easy Vegetarian Chilli
Rustle up our easy vegetarian chilli. Its a great recipe for batch-cooking – you can easily double it if you have a pan big enough, and freeze the rest.
Serves 8 (Estimated) Rating 4/5

Prep Time 25 Minutes Cooking Time 55 Minutes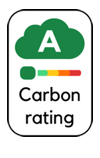 Ingredients
2 tbsp Vegetable Oil
2 Carrots, finely chopped
2 Stalks Celery, finely chopped
2 Onions, finely chopped
2 tsp Dried Mixed Herbs
2 Garlic Cloves, finely chopped
1 Red Pepper, sliced
1 Green Pepper, sliced
3 tsp Chilli Powder
2 tsp Paprika
400 g Red Kidney Beans
400 g Black Eyed Beans
800 g Chopped Tomatoes
400 ml Vegetable Stock
Method
Heat the oil in a large saucepan over a low-medium heat and fry the carrots, celery, onions and mixed herbs for 10-12 mins, stirring occasionally until the veg is soft but not golden.
You may need to add a splash of water if the veg starts to catch.
Stir in the garlic and both peppers, and cook for a further 5 mins until the peppers begin to soften.
Sprinkle in the chilli powder and paprika, turn up the heat to medium, then stir and cook for 1 min.
Mix in the tomato purée and cook for a further 1 min, then pour in all of the beans, the tomatoes and stock.
Stir well, bring to the boil, then reduce the heat to a simmer.
Cook for 25-35 mins until the beans are tender and the sauce has thickened.
Serve with rice, grated cheddar and soured cream, etc.