Potato and Yogurt Curry
The perfect combination of creamy potato and tangy and spicy yogurt curry


Serves 4 (Estimated) Rating 5/5

Prep Time 10 Minutes Cooking Time 10 Minutes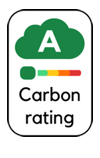 Ingredients
1 tbsp Avocado Oil
1 tsp Cumin Seeds
2 Bay Leaves
1 tsp Ginger, finely chopped
1 tsp Garlic Powder
300 g Potatoes, peeled, cubed, and parboiled
150 g Peas
1.5 tsp Turmeric
1 tsp Chilli Powder
1 tsp Coriander
350 ml Water
Method
Add oil to a thick based pan and heat it.
When it's hot enough, add cumin seeds and bay leaves and let it crackle for 1 minute.
Next add the ginger and garlic powder and sauté till the raw smell is gone.
Now add the potato and cook on medium flame until they are light brown.
Now add the yogurt to a mixing bowl.
Then add the turmeric, chilli powder and coriander powder to it, mix well.
Add one and a half cups of water to it and whisk it nicely to make a lump free yogurt-spice liquid mixture.
Pour this yogurt and spice water over the potatoes in the pan while on a medium flame.
Stir it continuously until it boils, otherwise your yogurt will curdle.
Allow boil on medium flame until the sauce has thickened to your taste.
Add salt if preferred to it and stir it once again.
Remove from heat and place into a serving bowl.
Serve with rice and breads.