Vegetable and Chickpea Korma
A smooth tasting spiced dish perfect for dinner parties.



Serves 4 (Estimated) Rating 4/5

Prep Time 10 Minutes Cooking Time 40 Minutes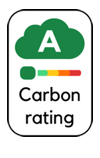 Ingredients
2 tbsp Vegetable Oil
1 Onion, finely chopped
3 Garlic Cloves, finely chopped
2 tsp Turmeric
2 tsp Paprika
1 tsp Ginger, grated
2 tsp Chilli Powder
1 Potato, cut into 3cm cubes
1 Cauliflower, broken into florets
1 Red Pepper, cut into pieces
1 Yellow Pepper, cut into pieces
400 g Chickpeas, drained
130 g Cashew Nuts
1 lt Vegetable Stock
100 ml Coconut Milk
200 g Frozen Peas
30 g Coriander
Salt, to taste
200 ml Vegan Yogurt
Method
Gently fry the onion in a large pan after 5 minutes.
Add the garlic and continue to cook for another 2 minutes.
Add the turmeric, paprika, ginger and chilli and cook for another 2 minutes.
Add the sweet potato, cauliflower, peppers, chickpeas, cashew nuts, stock and coconut milk then bring to the boil and simmer for 20 minutes stirring occasionally.
Finally add the peas and most of the coriander retaining a little for garnish.
Adjust the seasoning and serve with a spoonful of natural yogurt and coriander to garnish.