Garlic Naan Bread
A very tasty bread that is good with any curry dish

Serves 4 (Estimated) Rating 5/5

Prep Time 10 Minutes Cooking Time 40 Minutes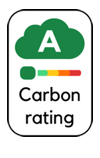 Ingredients
100 ml Semi-skinned Milk
4 tsp Caster Sugar
4 tsp Active Yeast
500 g Plain Flour
Salt
1 tsp Baking Powder
1 Egg
8 tbsp Natural Yogurt
2 tbsp Vegetable Oil
4 Garlic Cloves, finely sliced
Method
Warm the milk until it is just hot to the hand.
Stir in the sugar and yeast and leave for 10 minutes.
Sift the flour then add the salt and baking powder to it.
Slowly stir in the rest of the ingredients and mix to a dough.
Knead the dough for approximately 10 minutes and place it in a covered bowl for 1½ hours.
It should double in size.
Preheat the oven to the highest heat with a heavy baking tray.
Knead the dough gently and divide into 4 portions and roll into a tear shape.
Grease the baking tray lay out the bread sprinkle evenly with the garlic and return tray to the oven.
Cook for 10 mins and then place the naans under a hot grill for a further minute or so until brown.
Lightly dust the breads with extra vegetable oil before serving.