Panang Curry with Tofu
Panang curry takes its name from the city island off the West coast of peninsular Malaysia, Penang, or Pulau Pinang in Malay. We think you will like our variation.



Serves 4-6 (Estimated) Rating 4/5

Prep Time 10 Minutes Cooking Time 20 Minutes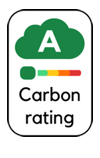 Ingredients
500 ml Coconut Milk, reserve 2 tablespoons to use as a garnish
100 g Red Curry Paste
350 g Pressed Tofu, cut into bite sized cubes
40 g Palm Sugar
45 ml Vegan Fish Sauce
7 Kaffir Lime Leaves, 3 sliced discard the stem and 4 shredded
45 ml Basil Leaves
Method
Put half of the thick coconut milk into a wok and fry for 3-5 minutes.
Stir continuously until the coconut oil begins to separate out.
Then add the red curry paste and fry for 1-2 minutes.
Once the paste is cooked add the tofu and cook for 10 minutes.
Then add the rest of the thick coconut milk and bring to the boil.
Simmer and add the palm sugar along the side of the wok until it melts.
And add the fish sauce and kaffir lime leaf pieces.
Stir to combine and then add half the basil leaves.
Turn off the heat and serve garnished with the shredded kaffir lime leaves and red chilli