Cauliflower Sweet Potato Mushroom Curry
Warm-spiced and totally comforting, this Curry recipe is rich with flavours of cumin, tomato, coconut, and chock full of delicious veggies.
Serves 4 (Estimated) Rating 4/5

Prep Time 20 Minutes Cooking Time 20 Minutes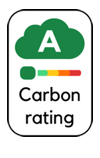 Ingredients
1 tbsp Cumin Seeds
1 tbsp Brown Mustard Seeds
1 tbsp Vegetable Oil
1 tbsp Ginger, finely chopped
1 Serrano Chillies, finely chopped
1 Medium Onion, finely chopped
4 Button Mushrooms, sliced
400 g Tomatoes, diced
300 g Sweet Potato, diced
300 g Cauliflower, broken into florets
500 g Coconut Milk
1 tsp Turmeric
½ tsp Sea Salt
½ tsp Black Pepper
1 tsp Lemon Juice
50 g Coriander Leaves, chopped
Method
In a deep skillet, over medium heat, combine the cumin seeds, mustard seeds, and oil.
Heat until the mustard seeds begin to pop and cumin sizzles.
Add the ginger, chillies, and onion and sauté for 2-3 minutes, until the onion begins to soften and brown.
Add mushrooms and sauté until they begin to soften and release their juices.
Add tomatoes and cover, let cook until tomatoes begin to break down, 3-4 minutes.
On medium low heat, add sweet potato, cauliflower, coconut milk, and turmeric and stir well to combine.
Cover pan and let cook undisturbed for 5-10 minutes until sweet potato and cauliflower are tender.
Season with salt, pepper, lemon juice, and cilantro and stir well.