Thai Red Tofu Curry
A great tasting Thai recipe




Serves 4-6 (Estimated) Rating 4/5

Prep Time 10 Minutes Cooking Time 30 Minutes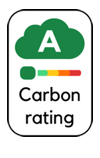 Ingredients
1 Onion, finely chopped
5 tbsp Olive Oil
4 Garlic Cloves, finely chopped
6 cm Ginger, grated
2 tbsp Red Curry Paste
1 kg Pressed Tofu, cut into bite sized cubes
400 g Coconut Milk
12 Birdseye Chillies
12 Basil Leaves, chopped
1 Lemon Grass, finely chopped
2 tbsp Vegan Fish Sauce
1 Lime, juice only
Method
Stir fry the onion in the oil on a medium heat until translucent.
Add the Garlic, Ginger and red curry paste fry for 3 minutes on medium heat.
Now add the tofu and seal well on all sides.
Add the coconut milk, whole chillies, basil leaves lemon grass and fish sauce.
Simmer for 15 minutes or until the tofu is cooked.
Add the lime juice and serve.