Spicey Rice
Nice taste to this meat free dish, good on a cold winter night



Serves 4 (Estimated) Rating 3/5

Prep Time 5 Minutes Cooking Time 40 Minutes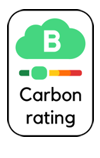 Ingredients
1 tbsp Sunflower Oil
1 Red Onion, finely sliced
2 Garlic Cloves, crushed
1 tsp Cumin
1 tsp Coriander
1 tsp Paprika
1 Fresh Coriander, stalks and leaves chopped separately
1 tsp Chipotle Paste
400 g Chopped Tomatoes
600 ml Water
250 g Wholegrain Rice
Method
Heat the oil in a large saucepan and add the onion.
Fry for 5 mins over a medium heat or until starting to soften.
Add the chilli, fry for another 2 mins
Add the garlic, spices, coriander stalks and chipotle paste.
Stir well and sizzle for 2 minutes.
Now add the tomatoes.
Now add the water.
Add the rice.
Mix well, bring to the boil
Simmer for 25-30 mins covered with a lid until the rice is tender and the liquid has all been absorbed.
Stir in the coriander leaves and serve.